Hi, I am Pastor Tod Kennedy, and I want to make more Biblical knowledge available for people's study and use. I have always had a heart for instructing Christians, so I am making these resources available online toward that end.
Romans 6.9-13
Knowing that Christ, having been raised from the dead, is never to die again; death no longer is master over Him. For the death that He died, He died to sin once for all; but the life that He lives, He lives to God. Even so consider yourselves to be dead to sin, but alive to God in Christ Jesus. Therefore do not let sin reign in your mortal body so that you obey its lusts, and do not go on presenting the members of your body to sin as instruments of unrighteousness; but present yourselves to God as those alive from the dead, and your members as instruments of righteousness to God.
The Bible is God's written revelation to people. As such it is without error. The Bible is the believers' spiritual food, and should be learned so we have knowledge from God (know), thought about and considered true (believe), and put into one's life (apply).
This website has the biblical studies of Dr Tod Kennedy. It is a resource for learning Bible doctrine.
It includes:
Dr Kennedy graduated from Washington State University with a BA in 1964, DVM in 1968, and from Dallas Theological Seminary with a ThM in 1974. He was Pastor and Teacher of Spokane Bible Church from 1974 until 2019.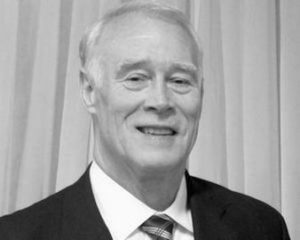 Dr Kennedy has also been a practicing veterinarian since 1968. He is currently Pastor and Teacher Emeritus of Spokane Bible Church. He is a past board member of Chafer Theological Seminary. He has taught in the United States, Ukraine, Nigeria, and Zambia.
What is the Christian message? Is it possible for individuals to have a personal and eternal relationship with God?
This section will briefly consider these questions:
God: What is He like?
Man: Why was he created?
Sin: How does it affect man and God?
Christ: Who is He? What did He do for man?
Grace: Can salvation be earned or deserved?
Faith: How can I have eternal life with God?
Future: Where will I spend eternity—under blessing with God or under judgment separated from God?
God is perfect and is worthy to be honored and served by His creation.
"Ascribe greatness to our God! The Rock! His work is perfect, for all His ways are just; a God of faithfulness and without injustice, righteous and upright is He" (Deuteronomy 32:3-4).
"You are worthy, our Lord and God, to receive glory and honor and power, for you created all things, and by your will they were created and have their being" (Revelation 4:11).
Man was created by God to reflect His glory.
"And God created man in His own image…" (Genesis 1:27).
"Shout joyfully to the Lord all the earth. Serve the Lord with gladness…. Give thanks to Him; bless His name. For the Lord is good…" (Psalm 100:1-5).
But does man reflect God's glory? Does man naturally love God and desire to serve Him in His way?
No, because man has chosen to sin and to go his own way. The "best" person who ever lived has sinned.
"All of us like sheep have gone astray, each of us has turned to his own way" (Isaiah 53:6).
"For all have sinned and fall short of the glory of God"
(Romans 3:23).
Sinful man does not reflect God's glory, nor does man love God or serve Him in ways acceptable to God.
"In this is love, not that we loved God, but that He loved us…"
(1 John 4:10).
Because man sinned there is a barrier between man and God.
"But your iniquities have made a separation between you and your God, and your sins have hid His face from you" (Isaiah 59:2).
Because God is perfect and righteous, He must judge all sin. This judgment will result in eternal separation from God.
"For the wages of sin is death…" (Romans 6:23).
All mankind is under God's righteous judgment.
This is not Good News! However…
God, in His great love, sent His Son, Christ Jesus, into the world to become a man so He could take the judgment for our sin upon Himself.
"For God did not send the Son into the world to judge the world; but that the world should be saved through Him" (John 3:17).
"Christ Jesus came into the world to save sinners…those who would believe in him for eternal life." (1 Timothy 1:15).
"Christ also suffered for you… Who committed no sin, nor was any deceit found in His mouth… and He Himself bore our sins in His body on the cross…" (1 Peter 2:21-24).
Jesus Christ paid the penalty for our sins by His death on the cross. After that He was raised and returned to heavenly glory.
"That Christ died for our sins… and that He was buried, and that He was raised on the third day according to the Scriptures"
(1 Corinthians 15:3-4).
"Christ Jesus is He who died, yes, rather was raised, who is at the right hand of God" (Romans 8:34).
Believing in Christ is the only way we can be saved from God's judgment and have eternal life with Him.
Jesus said to him, "I am the way, and the truth, and the life; no one comes to the Father, but through me" (John 14:6).
Jesus Christ is the only way of salvation.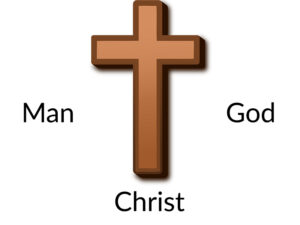 "And there is salvation in no one else; for there is no other name under heaven...by which we must be saved" (Acts 4:12).
God offers this salvation to us by grace. This means it is a free gift. It is not given as a reward for any good that we may have done…such as morality, good deeds, reform, religious duty, etc.
"For by grace you have been saved through faith; and that not of yourselves, it is the gift of God; not as a result of works, that no one should boast" (Ephesians 2:8-9).
"For the wages of sin is death, but the free gift of God is eternal life in Christ Jesus our Lord" (Romans 6:23).
Faith is the only way you can receive the free gift of eternal life. Faith means to believe, trust, and rely on Christ to save you.
"Believe in the Lord Jesus, and you shall be saved…"
(Acts 16:31).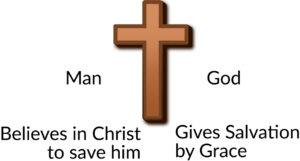 This is the Good News!
Until a person has, by faith, placed his complete and sole reliance upon Jesus Christ as his Savior, he is still under God's judgment.
"For God so loved the world, that He gave His only begotten Son, that whoever believes in Him should not perish, but have eternal life… He who does not believe has been judged already, because he has not believed in the name of the only begotten Son of God" (John 3:16-18).
Will you spend eternity in heaven and in fellowship with God and believers, or will you spend eternity judged by God and separated from him and believers?
John 3:18, He who believes in Him is not judged; he who does not believe has been judged already, because he has not believed in the name of the only begotten Son of God.
John 3:36, He who believes in the Son has eternal life; but he who does not obey the Son will not see life, but the wrath of God abides on him.
1 John 5.12, He who has the Son has life; he who does not have the Son of God does not have life.
Let us review…
God: Righteous, to be honored and served.
Man: Created to reflect God's glory and to love and serve Him.
Sin: All have sinned, are separated from God, and are under His judgment.
Christ: The God-man who came into the world to die for our sins.
Grace: Salvation is a gift that must be accepted by faith, not a reward.
Faith: Believe in Christ, trust Him to save you.
Future: Where will I spend eternity—under blessing with God or under judgment separated from God?
The only way for sinful man to have a relationship with God is to believe in Jesus Christ –to trust Him to save you.
Have you ever made the decision to trust completely in Jesus Christ as your Savior?
If not, is there any good reason why you cannot do so right now?
Would you like to believe in Jesus Christ, to trust Him for forgiveness and eternal life. You may do so right now. Though prayer is not needed, you may like to express your faith in Jesus Christ through a prayer like this.
"God, I understand I am a sinner. I believe that Jesus Christ took my place and died for my sins and rose again. I am now believing in Christ, trusting Him as my Savior."
If you have accepted Jesus Christ by faith as your personal Savior, you can be sure you have eternal life right now (1 John 5:13, And you can never lose it (John 10:28).
You are now a member of God's family (John 1:12).
Now God wants you to:
Talk with Him through prayer (Philippians 4:6).
Get to know Him through the Bible (2 Peter 3:18; 2 Timothy 3:16).
Become actively involved in a Bible-teaching church (Ephesians 4:11-16; Hebrews 10:25).